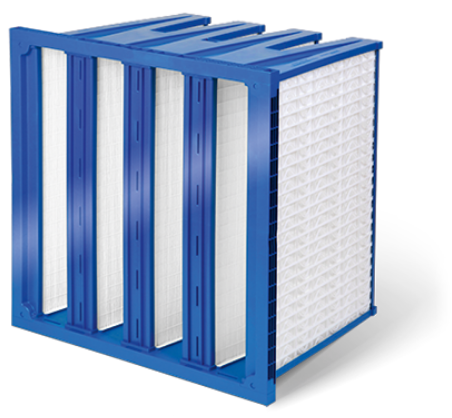 eMaxx 98
Material: N/A
Power: N/A
Brand: Freudenburg
Application
Viledon eMaxx filters are a new generation of powerful, efficient, economic and durable cassette filters offering operational reliability and cost efficiency for supply of air filtration systems which have stringent requirements for clean air quality. They are used in
intake air filtration for gas turbines and compressors
ventilation systems
Features
High-strength synthetic media and micro-glass-fiber papers with hydrophobic coating are used.
The 4-sided, leakproof casting of the dimensionally stable media pleat pack provides high burst strength as well as excellent security against dust penetration during operation.
During usage the vertical arrangement of pleats allows drainage of water to the bottom. The filter frame features an integrated water slope which transports the water towards the upstream side of the filter. Both results in less water saturation of the filter and reduced pressure drop increase.
Combined with the filter elements depth of 422 mm, particularly high dust holding capacity can be achieved resulting in long useful lifetimes.
The filters can be used as part of the unique Viledon modular clip-on system. They can be combined with hydroMaxx coalescer filters or with MVPGT respectively MaxiPleat cassette filters in one filter stage by simple clip-on.
Product variants
---

Powered by Froala Editor