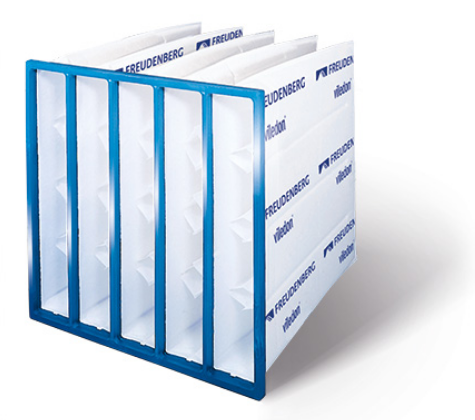 Compact F 40 / F 45
Material: N/A
Power: N/A
Brand: Freudenburg
Applications
Viledon Compact pocket filters F 40 and F 45 are used for supply, exhaust and recirculating air filtration in all kinds of ventilation systems, such as:
in general air-conditioning applications
for ventilating machine rooms and production areas
for exhaust and recirculating air filtration in paint lines
as prefilters for fine and micro-filters in industrial processes (metal processing, chemicals, pharmaceuticals, food and beverages, optics, electronics, etc.),
in ventilation and air conditioning technology, in paint lines /paint spray booths and for gas turbines and compressors.
Features
As filter media, we use our progressively structured high-performance nonwovens made in-house from tear-resistant synthetic organic fibers.
High separation capacity with low pressure drop, long service life and excellent cost-efficiency.
Maximized functional reliability thanks to the leak-proof welded configuration of the filter pockets, foamed-in polyurethane front frame.
Thanks to their shorter pockets, F 45 S filters offer a space-saving solution for plants where the use of long-pocket filters would not be possible.
F 45 R pocket filters with reversed filter media and hydrophobic finish offer excellent coalescing properties with a "front of filter" drainage effect. Therefore they are ideally suited for applications where filters are exposed to constant water spray or fogging.
* Data is from the corresponding pocket filter version F 45 S as the technical key data of F 45 R cannot be ascertained due to the test configuration according to EN 779 which does not provide for measurements of such a specific design.
Product Variants
---
Powered by Froala Editor