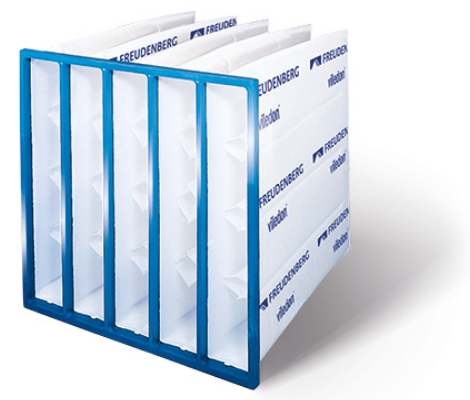 Compact T 60
Material: N/A
Power: N/A
Brand: Freudenburg
Applications 
T 60 Compact pocket filters are used for supply, exhaust and recirculated-air filtration in ventilation systems posing stringent requirements for durability and cost-efficiency, particularly
in intake air filtration of gas turbines and compressors on- and off-shore
in supply and exhaust air filtration for paint shops
in sophisticated air-conditioning systems (hospitals, laboratories, libraries, museums, airports, etc.)
as downstream "policing filters" in dust removal systems
Features 
The filter media featured are progressively structured high-performance nonwovens, produced inhouse from non-breaking, synthetic-organic fibers. This ensures superlative durability, high arrestance, low pressure drop, long useful lifetimes, and high cost-efficiency.
They achieve good energy efficiencies, thus cutting energy costs and downsizing CO2 emissions.
T 60 Compact pocket filters are free of glass fibers, non-corroding, microbiologically inactive, and meet all the criteria laid down in VDI Guideline 6022 "Hygiene Requirements for HVAC Systems and Units".
High functional dependability thanks to the leakproof-welded configuration of the filter pockets, foam-sealed into a PUR front frame, with aerodynamically optimized welded-in spacers and dimensionally stable construction of the filter element as a whole.
These filters do an excellent job even under extreme weather conditions and in off shore intake air systems, not least when subjected to increased volume flows.
Product variants 
---

Powered by Froala Editor